Features
Made of 100% food-grade, Eco-friendly, BPA and BPS free silicone: We source only the highest quality silicone to manufacture our TightCling™ Stretch Tapes, so it's odor-free and keeps its elasticity at both fridge and oven temperatures.
Wide usage temperature range:They are fridge-safe down to -50°F, and oven-safe up to 450°F. They are also microwave-safe. 
TightCling technology: clings like magic to stainless steel, glass, plastic, porcelain, ceramic, creating an air- and liquid-tight seal (leak-proof).
Wasted plastic wrap and mismatching lids? 
Reusable TightCling Stretch Tapes to seal any shape!!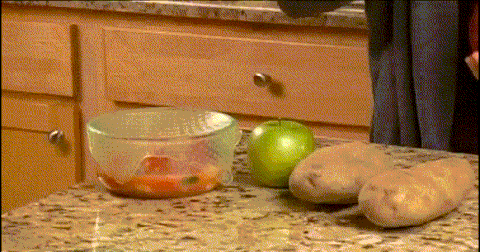 Any-shape containers: The TightCling™ Stretch Tapes can be used on platters, bowls, pots, bottles with a large mouth like water bottles, mugs, jars and roasting dishes. They stretch up to 2.5 times, so the Large fits easily on a 9"x13" rectangular pan!
Easy to clean: Wash by hand with warm soapy water, or in the dishwasher.
Easy to store: Stack them in a drawer, or wrap them around a rolling pin. But keep them away from sharp objects like knives and scissors.
Choosing the right size
S: 10x10cm/3.9x3.9in food wrap
M: 15x15cm/5.9x5.9in food wrap
L:  20x20cm/7.9x7.9in food wrap
4 Great Reasons To Buy From Us