Slip an enchanting surprise into your next birthday card, wedding card, or book and wind up The Magic Butterfly. This charming accessory is the perfect companion to announcements, celebrations, and gifts. Simply wind up the paper butterfly and place it inside your card or book. When opened, the butterfly zips out and flutters in the air.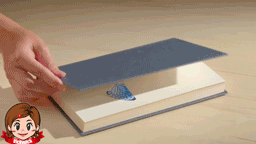 Hold one end, and wind the other 25 times

 Place into a book, greeting card or under an object, careful not to let the butterfly   unwind

 When the object is opened/moved, watch the butterfly fly high!
4 Great Reasons To Buy From Us