The Sushezi Roller Kit is a sushi maker that allows you to make bountiful amounts of sushi both quickly and easily. The gun allows you to make perfect sushi rolls every time using your own custom choice of ingredients. Just fill it up with your ingredients, and shoot out a full log of sushi rolls in mere seconds.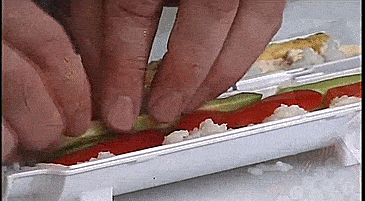 Once all ingredients have been inserted, just close the container and start pumping out hot loaves of sushi rolls onto your seaweed sheets, and slice to lengths of your liking.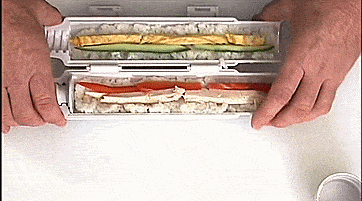 The Sushezi sushi bazooka gun is made from plastic, is dishwasher safe, and measures 12 inches x 2.5 inches x 2.4 inches.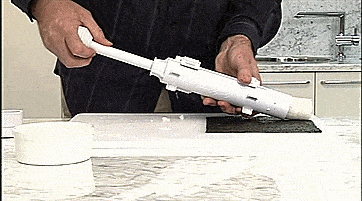 To use it, just insert some rice into each side of the tube, press the plunger rod onto each side of the rice to create room for more ingredients, then place your ingredients on each side of the rice.
【SIZE & HEALTHY MATERIAL】 Includes sushi tube, plunger, and end-cap, all the materials of sushi bazooka are made of safe food-grade high-quality ABS+PP material, BPA-free plastics. Everything is as sanitized and hygienic as it gets!
【INGENIOUS DESIGN】:The compact design is easy to use, even for children, it can be used to make sushi, Simply lay your sushi rice and favorite ingredients into the sushi roller machine, close it, and press out a perfectly rolled sushi roll. The uniquely designed side clips make it would not pop off.
【PORTABLE & IMPRESSIVE】- Without complicated Sushi Making kit, you could make sushi easily with our sushi machine on Camping, Picnic, Date Night, Family and kids gathering. DIY your sushi, it's up to you to create your favorite combinations. Make an unusual dinner to impress your friends and families.
Put a layer of cooking oil on the inside of sushi machine and it will fall off quickly.

【SAVE YOUR TIME AND BEST GIFT】: Use our sushi making tools to make sure your sushi rolls are perfectly rounded, fast and easy, so you can easily make the perfect sushi roll at home. This is a perfect family gift for friends and beginners who like sushi.
Whether you're a beginner, a world-class professional sushi chef or a culinary student, you can make an original snack in just a couple of minutes.


Features

▪ Easy to use, you can be a great sushi master in a few minutes.

▪ Made of food-grade bamboo and plastic, safer and healthier.

▪ Easy to clean, dishwasher safe.

▪ Space-saving design, it won't take up a lot of places.